The
Upside Down eggs
were large, yellow eggs present in the
Upside Down
that the
Monster
fed off.
The monster was feeding off of an egg when Eleven used her remote viewing abilities to make contact with it[1] and when Nancy Wheeler entered the Upside Down.[2]
When Joyce Byers and Jim Hopper entered the Upside Down to search for Will Byers, Hopper found an egg that was hollowed out and cracked open at the top and briefly studied it.[3] It is currently unknown what hatches out of these eggs.
Behind the scenes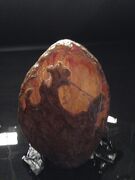 Aaron Sims Creative created the concept art for the egg.[4] The company Fractured FX, who made the prosthetics for Will's fake body and Barbara's corpse, created the prosthetic for the egg as it was seen in Chapter Eight.[5]
Though it is not visible in the show, Aaron Sims revealed in an interview that the Monster was feeding off one of the eggs when Nancy saw it.[4]
References
Community content is available under
CC-BY-SA
unless otherwise noted.