Large, yellow eggs
were present in the
Upside Down
, coated in some kind of webbing. The
Monster
hunkered over these eggs, seemingly feeding off them.
History
Background
The Monster was feeding off an egg when Eleven made psychic contact with it[1] .
Season One
When Joyce Byers and Jim Hopper entered the Upside Down to search for Will Byers, Hopper found and briefly studied a broken eggshell near Castle Byers that appeared hatched; it was hollowed out and cracked open at the top.[2]
It is currently unknown what hatches out of these eggs.
Behind the scenes

Aaron Sims Creative created the concept art for the egg.[3] The company Fractured FX, who made the prosthetics for Will's fake body and Barbara's corpse, created the prosthetic for the egg as it was seen in Chapter Eight.[4]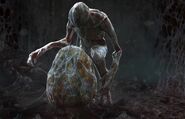 In the closing moments of Chapter Five, Nancy enters the Upside Down and witnesses the Monster being hunched over something, appearing to feed off it. In an interview, visual effects artist Aaron Sims implies that the Monster was feeding off an egg in this moment. Despite this, close examination of the scene suggests that it was instead feeding on the wounded deer Nancy and Jonathan found earlier in the episode. [3]
References