"Chapter One: Suzie, Do You Copy?" is the premiere episode of the third season of Stranger Things and the eighteenth episode overall. It premiered on July 4, 2019.
Synopsis
Summer brings new jobs and budding romance. But the mood shifts when Dustin's radio picks up a Russian broadcast when he is trying to contact his girlfriend, and Will senses something is wrong.
Plot
In 1984, two scientists power up a large cannon-like machine as a group of government officials watch. The machine shoots a beam of electricity into a wall, starting to open up a gate until it malfunctions and explodes, melting the scientists near it. The general in attendance has the lead scientist killed by a large man for his failure, and orders the second scientist (in Russian) to complete the machine within a year. The general and large man leave by helicopter, revealing their location to be Russia.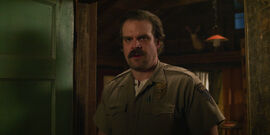 On June 28, 1985, Eleven and Mike Wheeler make out on her bed, interrupted by an annoyed Jim Hopper, Eleven having violated his "three inch minimum" rule of keeping her door open. Mike promises to see her tomorrow and bikes late to the newly opened Starcourt Mall, meeting up with Max Mayfield, Lucas Sinclair, and Will Byers. They go to Steve Harrington's new place of employment at an ice cream shop and he sneaks them into the movie theater through a back door so they can watch Day of the Dead for free. The power in the mall and surrounding areas cuts out, and across town at an abandoned steel mill, the dust particles start to swirl as a cloud of black smoke forms and begins chasing the rats nearby. The power comes back on and the skin on the back of Will's neck flares up, which he recognizes as a sign of the Mind Flayer's presence. He assures Mike that nothing is wrong when he asks.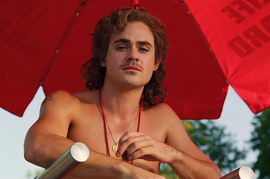 Nancy Wheeler and Jonathan Byers wake up in his bed together to find his clock reset during the power outage, and they hurry to their jobs at the Hawkins Post. Joyce Byers notices the magnets on her fridge have fallen, and looks at Will's drawing of Bob Newby before hanging it back up. Dustin Henderson returns from a month long science camp to seemingly no reception. Eleven manipulates his toys into leading him to his living room where his friends wait to surprise him, but they scare him into spraying Lucas in the eyes with his hair spray. At the Hawkins Community Pool, Karen Wheeler and her fellow mothers ogle Billy Hargrove, now working a lifeguard job, and he compliments Karen as he passes. Hopper visits Joyce at work to complain about Eleven and Mike's interactions with him and decides to break them up, but Joyce instead encourages him to talk to them like adults, and tells him that for it to work, he must stay calm when talking to them no matter what.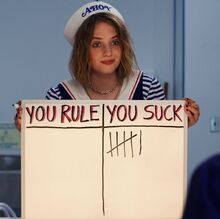 Nancy delivers food to the Hawkins Post workers and suggests to the all-male writers that they run a story on the mall outcompeting local businesses, but is laughed off. Dustin shows his most complicated camp invention to his friends, a powerful radio tower dubbed "Cerebro". He claims its primary purpose is to talk to his long-distance girlfriend Suzie, this revelation shocking his friends, and they leave to go set it up and talk to her. Steve, forced to work at the ice cream shop by his father after not getting into college, fails to secure a date with a female customer, and this is tallied by his sarcastic coworker Robin Buckley on a board that tracks his repeated, failed attempts at flirtation. He removes the company outfit's hat and tries again to flirt, failing again. Hopper writes a speech for Mike and Eleven with Joyce's help, and he asks her out on a date, which she politely declines.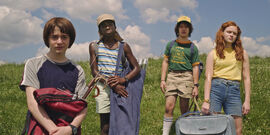 The kids hike up a hill to establish the strongest signal possible, and Mike and Eleven leave together so he can get her home in time, which the boys observe is a lie while Max finds it cute. Will's neck flares again and dozens of rats run by him, hundreds converging on the mill. They scamper down to the basement where they convulse and explode into blobs of fleshy goo. Billy stares at Karen while she swims and stops her when she gets out, inviting her to take "swimming lessons" with him at a nearby motel that night, and she accepts despite being flustered. Joyce eats home alone while watching Cheers, and remembers watching it with Bob. The magnets on her fridge fall again. Cleaning the office after hours, Nancy gets a call from a woman named Doris Driscoll about a story involving disease and rats.
Mike and Eleven again make out on her bed and Hopper calmly asks to enter, giving them time to pretend like they were not kissing before coming in. He tries to read to them his prepared speech, but is interrupted by Mike's sarcastic remarks. Irate, he abruptly claims he got a call from Karen telling Mike to come home as his grandmother is sick, and takes Mike to his police cruiser. Inside, he prepares to give Mike an angrier, less considerate version of his speech and that he will possibly "continue to allow you to my daughter" by the end and drives off. Suzie does not answer Dustin's calls, leading Lucas and Max to conclude she does not exist. The kids leave Dustin alone and a voice speaking Russian sounds through the radio, repeatedly reading the message "the silver cat feeds when blue meets yellow in the west/a trip to China sounds nice if you tread lightly/the week is long." The scientist from the opening walks through the base where the message is being broadcast from and watches something being built, which one of his coworkers refers to as beautiful.
Karen prepares for her encounter with Billy by dressing up and removing her wedding ring. She looks at a snoring Ted Wheeler curled up with their daughter Holly and reconsiders. As Billy drives while he practices lines to use on Karen, something smashes the windshield of his car and sends him careening into the side of the mill. As he finds a strange liquid on the windshield, a fleshy tendril drags him by his ankle into the basement.
Cast
Starring

Also Starring

Co-Starring

Caroline Arapoglou

as Mom #1

Alexander Chernyshev

as Russian Scientist

Erika Coleman

as Cute Girl

Greta M. Glenn

as Secretary #2

Abby Glover

as New Cute Girl

Nita Hardy

as Secretary #1
Sophie Levy as Annoyed Girl

Cara Mantella

as Mom #2

Olan Montgomery

as Newsman

Dylan Gage Moore

as Johnny

Leiloni Arrie Pharms

as Erica's Friend

Lauren Revard

as Mom #3

John Vodka

as Major General Stepanov

Susan Williams

as Customer
Music
Soundtrack
"The Red Army Is The Strongest" performed by The Red Army Choir - Soviet General kills a scientist.
"Never Surrender" by Corey Hart - Eleven and Mike are kissing in El's bedroom.
"Funky Fanfare" by Keith Mansfield - The kids head into the theater.
"Daisy Bell" - Kids on a ride at the mall.
"Captain Pugwash" by Johnny Pearson - Power goes out at Scoops Ahoy.
"Open the Door" by Gentlemen Afterdark - Nancy and Jonathan wake up and rush to work.
Various tracks from "Killer Klowns from Outer Space" by John Massari - Eleven use her powers to pull a prank on Dustin.
"Rock This Town" by Stray Cats - Hawkins residents swim in the community pool.
"Moving in Stereo" by The Cars - Karen and the rest of the moms ogle at Billy as he takes his lifeguard shift.
"The Touch of You" by Andrea and Ervin Litkei - Hopper visits Joyce at Melvald's.
"Anthony" by Andrea and Ervin Litkei - Joyce gives Hopper advice on Mike and El's relationship.
"Workin' For A Livin" by Huey Lewis & The News - Nancy rushes to work to deliver lunch.
"She's Got You" by Patsy Cline - Hopper lovingly looks at Joyce from afar.
"Hot Blooded" by Foreigner - Billy watches Karen swim.
"Italian Gigolo"by Vincenzo Salvia - Billy flirts with Karen.
"Can't Fight This Feeling" by REO Speedwagon - Hopper interrupts Mike and Eleven's makeout session.
"I Just Died In Your Arms Tonight" by Cutting Crew - Karen gets ready to go out before changing her mind.
"Nothing to Say" by Head On - Billy is driving and has an accident.
Original Score
"Portal Drill" - The gate in Russia begins to open.
"Birth/Rescue" - The general inspects the aftermath of the explosion.
"Starcourt" - The kids arrive at Starcourt Mall. Steve sneaks them into the movie theater to watch Day of the Dead.
"The Upside Down" - Electricity goes out throughout the town.
"Lay-Z-Boy" - Dustin shows Will, Mike, and Eleven the inventions he made at camp.
"Rats" - Hundreds of rats run to an abandoned steel mill.
"Kids Two" - Dustin, Will, Lucas, and Max set up the radio antenna.
"Coffee & Contemplation" - Dustin tries to radio Suzie. Joyce arrives home.
"Eulogy" - Joyce has a flashback of watching TV with Bob.
"It's Just Ice" - Dustin intercepts a Russian transmission as Alexei oversees their progress.
"No Weapons" - Billy assesses the damage done to his car.
Gallery
Notes
On December 9, 2018, a teaser trailer for the third season was published across social media, listing the titles of the eight episodes, the first of which was "Suzie, Do You Copy?"
Grigori choking the scientist in the opening scene is an allusion to Darth Vader choking a rebel in Star Wars Episode IV: A New Hope.
Despite the third season being set in 1985, one of Dustin's toys is a G1 Transformers toy name Ultra Magnus, which wasn't available yet until 1986.
Fans initially thought that the name "Suzie" in the title was either referring to Max's mother, or was a codename the boys used for Eleven over their walkie-talkies.
References