STRANGER THINGS
is a science-fiction horror web television series created, written and directed by the
Duffer Brothers
, and executive-produced by
Shawn Levy
. The show was released as a
Netflix
original series premiering on July 15, 2016. The show takes place in the fictional town of
Hawkins
,
Indiana
in the early-to-mid 1980s. When a
young boy
vanishes, Hawkins becomes engulfed in an extraordinary mystery involving
secret experiments
,
terrifying supernatural forces
and
one strange little girl
...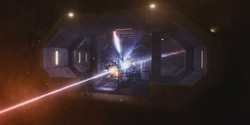 "The Key" referred to a type of Russian machine that could open Gates to the Upside Down, though the term "Key" was also colloquially used to refer to the Gates themselves. When activated using two special keys, the machine fired a high-powered laser beam which could open "a doorway between worlds".
User Blogs
I honestly hope the final season includes all the test subjects reuniting and taking down whatever evil forces are still out there. Although I feel like Kali might be kind of standoffish towards the …
Billy needs to be loved welcomed he is not aprreciated for somebody whos mom left and dad hits him i hope in seson 4 his parents and relationship with max is bedder he deserved i love that he said im…
to: anyone who cares
y'all i came out on wattpad and no one said anything. ):
See more >