Raise a Floppa - The Loop
Play Sound

Stranger Things: Puzzle Tales is a cartoon-inspired story-driven puzzle role-playing game based on the Netflix Original series, Stranger Things.
Originally slated to release sometime in 2020[1], the game has now been released in 2021 on iOS and Android, after some delays.[2]
Description
Dive into supernatural mysteries and immerse yourself in brand new, original storylines starring your favorite characters from the Netflix series while you explore a new Puzzle RPG experience!
Experience this unique Puzzle RPG with a roguelike mode, idle RPG rewards and supernatural mysteries based on the Netflix series, Stranger Things!
Join the Stranger Things Gang in this new official puzzle RPG today![3]
Gameplay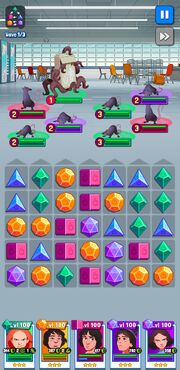 In this game, you collect characters from seasons 1-3 of the show, level them up, and give them gear to fight off monsters.
You can go through the main story route, and eventually, you can unlock HNL, in which you descend down inside of the lab in a separate set of missions. Every day, you may also enter the portal, which has characters permanently die for that day if they die. You can also earn portal tokens here. There is also the club boss, where you can join a club to defeat a monster, taking turns doing damage to it. You have a day to do so.
Simply by having the game installed, you can earn rewards in the background. All you have to do to claim them is log back on, and click the claim button. You can also send characters off to investigate to get extra rewards, or complete daily, weekly, and general tasks.
For every chapter you complete, you can also earn chapter rewards through the Reward Pass. There are free and premium rewards, the latter of which you must pay for.
You can unlock characters through diamonds, walkie-talkies, or star shards. You can sell one star characters to get scraps.
You can upgrade your characters with gold and experience, and sometimes requiring green goo through intervals of twenty or so. This improves their stats, such as power, health, and attack. You can also promote your characters, which allows them to be leveled up more. If you would prefer to not spend your recourses on certain characters, they can instead be sent to the gaming table, in which they can be temporarily leveled up to your fifth highest leveled up character. You can use gamer tokens to unlock more slots on the table.
You can give your character gear for all four slots, which include headgear, shirts, a weapon, and shoes/pants. You can also upgrade gear with other gear, or with upgrade tokens.
Characters
Chapters
Chapter Poster
Chapter Number
Chapter Name

1.
Arcade

2.
The Missing Sister

3.
Shopping Frenzy

4.
Strange Science

5.
Funflayer

6.
Attack of the Battle Bots

7.
The Doppleganger

8.
Closing Time

9.
They Hatch!

10.
Bauman Delirium

11.
Blood Drive

12.
Mayhem in Hawkins

13
Funflayer 2: Teddy's Revenge

14.
The P.E.T.

15.

16.
Siblings

17.
(TBA)
Locations
Development
The game was developed by Next Games, a Finnish mobile game developer and publisher.[4] Similar to location-based games like Pokemon Go, Next Games was going to use Google Maps integrations so players could explore the Upside Down around their own neighborhood and team up with friends.[5]
According to Teemu Huuhtanen, CEO of Next Games, the game focuses on delivering rich and intense themes of Stranger Things, like friendship and supernatural adventure.
Due to the 2020 pandemic, development shifted away from the location-based mechanics to story-driven gameplay. The game was switched to a match three type format, in which you "defeat the Mind Flayer's minions with your puzzle-solving skills."[6]
The game is now available on the Google Play store and the App Store, and is being updated consistently.[2]
Music
It is currently unknown who has composed the soundtrack for this game. The OST consists of a few tracks, such as the lobby music and the battle music.
Marketing
Trailers
Promotional Images
Promotional Quotes
Trivia
Gallery
External Links
References