Stranger Things 5, the fifth and final season of Stranger Things, was officially announced on February 17, 2022.[1]
Synopsis
TBA
Cast and characters
Main cast

Also Starring

Recurring cast

Guest cast
Episodes
TBA
Development
Following the announcement of Season 4's release dates, the Duffer Brothers stated that Stranger Things is getting a fifth and final season.
On May 19, 2022, it was revealed by the Duffer Brothers that Season 4 hints at some big events that are going to happen in this season. They also revealed that there is a longer time jump between the seasons. In addition, unlike the previous seasons where the Duffer Brothers were trying to finish the scripts while they were shooting episodes, because of the pandemic, they had a six-month hiatus where they used the time to write every episode in season 4, and they also outlined all of season 5.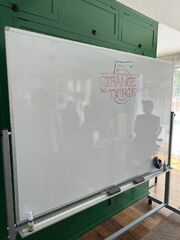 Later on July 5, 2022, the Duffer Brothers stated they will begin writing the season from the first week of August. [2] They also affirmed that the season's storylines will primarily take place in Hawkins and the Upside Down, in contrast to Season 4. The Duffers are also planning to bring the story "full circle" by re-exploring some of the original groups and character pairings of Season 1, but in a grander scale. Furthermore, they expect the finale to be in length to the final episode of Season 4 as they plan to give all the characters a proper send-off, similar to "Return of the King-ish with eight endings." [3]
On August 2, 2022, @strangerwriters announced writing for Season 5 had officially begun. [4]
Casting
TBA
Production & Filming
TBA
Marketing
Images
TBA
Videos
TBA
Soundtrack
TBA
Gallery
Trivia
Actor David Harbour, who portrays Hopper, is the only one of the cast to know how the series ends prior to the fifth season's writing, stating it was "quite moving and beautiful".[5]
Actress Sadie Sink has stated that the Duffer Brothers refuse to reveal the fate of Max to her.[6]
References