Stranger Things 3: Now in Production
Spoiler Warning!

This article or section reveals details on the upcoming third season. Read at your own discretion...
Stranger Things 3, the third season of Stranger Things, was officially announced on December 1, 2017.[2] It is currently in post-production. While an exact release date has yet to be revealed, a teaser trailer released in July confirmed the season will be released in summer 2019.[3]
The season will have a time jump like the previous season,[4] taking place in the summer of 1985,[5] and will be focusing on "forces of evil that are new."[6]
Cast and characters
Episodes
Development
The Duffers stated they wanted to start the third season with a clean slate, intentionally ending the previous season with few cliffhangers, so that they can focus on creating a better story with more freedom.[11] They also hinted that several ideas that didn't make it in the second season may be used.[4] By mid-November, the season was in the early stages of development.[12] In January, producer Shawn Levy revealed that all of the characters' story lines have already been planned out, and that the season will have eight or nine episodes, depending on the "amount of story that excites them." He also confirmed that Will Byers will not be the main victim this season, and that the friendship between Dustin Henderson and Steve Harrington will continue.[6] In February, it was announced the season will have eight episodes.[1]
In March, Levy also revealed that Season 3 would take place during the summer of 1985, a year after the former season and added that the relationship between Mike and Eleven as well as Max and Lucas will continue. Moreover, he promised that Steve Harrington will have a much larger role.[5]
In an interview, Noah Schnapp told that the third season will be very unique as it will be combining both the darker and lighter elements of the previous two seasons. Additionally, he confirmed that Erica will have her own story-line with "someone from the cast".[13] At Stranger Con, he also hinted the possibility of seeing more D&D scenes this season.[14]
In July, Levy gave more information on the season's tone, saying it is going to "darker" places while also mentioning it has "heart and humor." David Harbour mentioned that the season will be taking more risks[15] and hinted at the inspiration from several films released during 1985.[16] Harbour later revealed that one such film is the 1985 comedy film Fletch.[17] In addition, he described his character, Hopper, as being almost a combination of the previous versions of the character from the two prior seasons.[16]
In late July, Levy stated the season will be the "most ambitious" season yet, with inspirations being John Carpenter and other '80s horror directors.[18] Later, he also clarified his previous statement regarding the season's tone, saying that there will still be "plenty of summer fun."[19] According to Finn Wolfhard and Millie Bobby Brown, the season will be the "Summer of Love".[20][21]
In September, Sadie Sink hinted that Starcourt Mall, the new location previously teased will play a big role in the season.[22]
As stated by Dacre Montgomery, Billy Hargrove's storyline will be a huge part of the season.[23]
Casting
On March 2, Variety announced that Priah Ferguson, who portrays Erica Sinclair, had been upped to a recurring role. Her storyline for the season was described as "No longer content with sitting on the sidelines, Erica finds herself on a wild mission to save Hawkins from a dangerous new threat." They also revealed that Maya Hawke will be joining the cast as Robin, an "'alternative girl' bored with her mundane day job. She seeks excitement in her life and gets more than she bargained for when she uncovers a dark secret in Hawkins, Ind."[7]
In April, it was announced that Cary Elwes, best known for his performance as Westley from The Princess Bride, had been cast as Mayor Kline, who is described as "handsome, slick, and sleazy. He is your classic '80s politician — more concerned with his own image than with the people of the small town he governs." Additionally, Jake Busey was revealed to have been cast as Bruce, a journalist for The Hawkins Post "with questionable morals and a sick sense of humor."[8]
In May, it was revealed that actress Francesca Reale had been cast as Heather, a lifeguard at the Hawkins community pool who will "become the centerpiece of a dark mystery."[9]
In late September, casting director Carmen Cuba revealed that she and the Duffers were still searching for new additions to the cast. Cuba stated they had a challenging storyline that requires them to continue searching for new talent.[24]
Production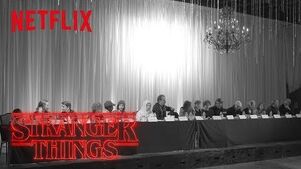 According to actor David Harbour, production was scheduled to begin in April 2018.[25] TVLine additionally reported that production was slated to begin in mid-April.[1] Production officially began on April 20,[26] and a production teaser was released on April 27, showing the cast members at the table read.
Filming
Filming for the season officially began April 23.[10]
According to executive producer Iian Paterson, the season was filmed almost entirely on location.[27]
Aside from filming at EUE Screen Gems Studios in Atlanta, the crew shot scenes at a public swimming pool located in South Bend Park, Georgia for three days starting from May 5.[28] In preparation for filming, a portion of Gwinnett Place Mall, located in Duluth, Georgia, was refurbished to resemble an '80s-era mall, including several outlets popular during the time.[29] According to casting calls looking for mall patrons and employees, filming at the location took place May 14 - 18.[30][31] Filming also took place in many other locations including in Stone Mountain on June 18 and 20[32], and the Serenbe Farms of Chattahoochee Hills on August 1-2.[33]
According to cinematographer Tim Ives, filming for the first two episodes had completed on May 25.[34] The third and fourth episodes had finished filming in mid-July.[35] Filming for the fifth and sixth episodes had concluded in early-September.[36]
On September 27, actress Millie Bobby Brown was observed filming a scene from the upcoming season on a beach in Malibu, California.[37]
Filming officially wrapped on November 13.[38]
Technical Aspects
For filming the episodes, Tim Ives upgraded to the 8K Red Monstro (Brain) camera and decided to use the Leica Thalia lenses.[39]
Delayed release
Netflix's VP of original programming, Cindy Holland, gave the reason for the show's delayed release during the Television Critics Association press tour. She explained that the Duffers and Shawn Levy wanted to deliver something "bigger and better" than the previous season, later noting that the season's special effects will additionally take more time. Holland assured that the season will be fantastic and worth the wait.[3]
Marketing
Trailers
A teaser trailer was released on July 16, giving a brief look at Hawkins's new shopping mall, the Starcourt Mall featuring 80's shops like the Sam Goody and Waldenbooks.[40]
On December 9, another official teaser listing the titles of all the episodes were released. The trailer also confirmed that the season would be set in the summer of 1985 and will be released on 2019.
References
↑ 1.00 1.01 1.02 1.03 1.04 1.05 1.06 1.07 1.08 1.09 1.10 1.11 1.12 1.13 1.14 "Stranger Things Season 3 Episode Count (Finally) Revealed" TV Line. February 9, 2018
↑ "'Stranger Things' Renewed For Season 3 By Netflix" Deadline. December 1, 2017
↑ 3.0 3.1 "Stranger Things season 3 delayed, but it's 'better' than season 2" Entertainment Weekly. July 29, 2018
↑ 4.0 4.1 "'Stranger Things': The Duffer Brothers on what's in store for Season 3" Yahoo. November 6, 2017.
↑ 5.0 5.1 "'Stranger Things': First Season 3 Details Revealed" The Hollywood Reporter. March 25, 2018
↑ 6.0 6.1 "'Stranger Things' Season 3 Is Further Along Than You Think" Glamour. January 22, 2018
↑ 7.0 7.1 7.2 "'Stranger Things' Season 3 Adds Maya Hawke, Ups Priah Ferguson" Variety. March 2, 2018.
↑ 8.0 8.1 8.2 "Stranger Things season 3 appoints Cary Elwes as mayor" The Hollywood Reporter. April 18, 2018
↑ 9.0 9.1 "'Stranger Things' Season 3 Casts 'Haters Back Off' Alum Francesca Reale" Variey. May 9, 2018
↑ 10.0 10.1 10.2 10.3 10.4 "Exclusive: 'Stranger Things' Season 3 Starts Filming Monday; Andrew Stanton Not Returning" Collider.April 21, 2018
↑ "'Stranger Things' Season 2: The Duffer Brothers Dive Into the Final Scene" The Hollywood Reporter. October 27, 2017.
↑ "'Stranger Things': Duffer Brothers And Cast Reflect On Season 2, Keep Tight-Lipped On Season 3" Deadline. November 18, 2017
↑ "Noah Schnapp Teases 'Stranger Things' Season 3: "It's Very Different" " The Hollywood Reporter. June 5, 2018
↑ "Stranger Con short on Stranger Things 3 spoilers" Netflix Life. June 26, 2018
↑ 'Stranger Things' Star David Harbour Teases Season 3"The Hollywood Reporter. August 15, 2018.
↑ 16.0 16.1 "'Stranger Things' Shawn Levy & David Harbour On Darker, Riskier Season 3 And Jim's Evolution" Deadline. July 12, 2018
↑ "'Stranger Things' Season 3 Is Inspired by 1985's 'Fletch' (EXCLUSIVE)" Variety. August 18, 2018
↑ "EXCL – Shawn Levy ci parla della terza stagione di Stranger Things!" BadTV. July 27, 2018
↑ "Finn Wolfhard Teases 'Stranger Things' Season 3: 'It's the Summer of Love'" Us. August 6, 2019
↑ "Millie Bobby Brown Teases Stranger Things Season 3: "It's the Summer of Love" "Eonline. August 22, 2018.
↑ Sadie Sink on Balancing Stranger Things Season 3"WMAGAZINE. September 5, 2019.
↑ "Dacre Montgomery Says Billy Hargrove Plays Huge Part In Stranger Things 3" GQ. November 14, 2018
↑ "'Stranger Things' Casting Director Still Searching for Talent for "Challenging" Season 3"The Hollywood Reporter. September 21, 2018
↑ "David Harbour Talks 'Stranger Things' Season 3 Plans - Dubai International Film Festival" Variety. December 8, 2017
↑ "STRANGER THINGS on LMGI" LMGI. August 14, 2018
↑ "What's filming in Atlanta Now? Stranger Things" May 31, 2018.
↑ "Gwinnett Place Mall goes back to the future for 'Stranger Things'" AJC. May 11, 2018
↑ "Casting TaylorMade NOW CASTING MULTIPLE DATES for STRANGER THINGS Atlanta, GA" TSCC. May 8, 2018
↑ "What's filming in Atlanta now? Stranger Things"Atlanta Magazine. August 27, 2018.
↑ "How Stranger Things Became an Emmy Awards Darling" GQ . July 16, 2019
↑ Millie Bobby Brown looks distraught as she crawls out of the waves while filming a scene for Stranger Things"The Daily Mail. September 28, 2018
↑ "Lensing "Stranger Things," "Mrs. Maisel," "Mozart in the Jungle""Shoot. August 10, 2018.