Production
Filming
The filming of the first season of Stranger Things lasted for six months.[1] They spent eleven days filming each episode.[2]
The first scene they shot was the Dungeons & Dragons scene from the first episode. The Duffers were concerned about how the child actors would work together on set, but to their relief "Our boys flew through the scene effortlessly and energetically, and their chemistry was electric; they felt like they had known each other their whole lives."[3]
Initially planning to direct all of the season's episodes, the Duffer Brothers found themselves overwhelmed by the time production wrapped on the first two chapters; they were editing the first two episodes, prepping episodes five and six, while at the same time writing scripts for episodes seven and eight. That is when producer Shawn Levy was brought in to take the directing reins for episodes three and four.[1]
When writing the final episode, the Duffers started to panic because they knew it would push the limits of the crew on the show. Production for the final episode consisted of long days and nights with little sleep and a large amount of stress, and the Duffers credited the enthusiasm of everyone on the show for making "the impossible possible." They later stated "This was by far the most challenging episode to pull off. No other episode even comes close." To create snow for the winter scenes, over twenty tons of ice were shipped from Florida.[4]
Special effects
Having grown up on genre films before computer graphics, it was important to the Duffers that the horror elements were done practically. Something about the effects being so tangible in films like Ridley Scott's Alien, John Carpenter's The Thing, and Clive Barker's Hellraiser was especially terrifying to them when they were kids.[5] They anticipated to use eighty percent practical effects and twenty percent computer graphics, but in the final product "it was probably more of a 50/50 split." [6]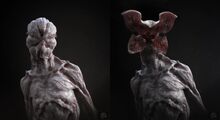 The visual artists at Aaron Sims Creative were hired to help them design the Monster and the look of the Upside Down. The Duffers spoke to them at length about the creature designs of H.R. Giger, Clive Barker, Guillermo del Toro and Masahiro Ito. "We all felt their monsters were so effective because of their strangeness. If you were to encounter a being from another planet or dimension, we imagine it wouldn't look like anything you'd expect. The more bizarre, the more frightening."[5]
From early on, they knew they wanted their monster to be a person in a suit with animatronic elements, so the monster could interact with actors in real time.[7] Spectral Motion, who had previously worked with Guillermo del Toro, were brought in to build the monster. They had only about two months to complete the creature, meaning there was almost no room for error. The robotics engineer designed the animatronics so the movement of the head petals moved in unpredictable patterns, never repeating themselves. The Duffers stated that "it felt organic. Creepy. Real."[5]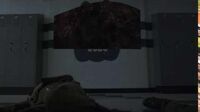 Aaron Sims Creative was also put in charge of the visual effects.[5] Full computer graphics were used when an actor in a suit could not perform certain stunts, like the monster breaking through walls.[8] Nearly forty percent of the final episode had some type of visual effects enhancement. The visual effects team was working on shots until the last possible moment with the final shots turned in just two weeks before they aired on Netflix, most of them not even entirely complete.[4]
The Upside Down was created through a mix of practical and visual effects. Many of the vines and growth were actually moving and pulsing with visual effects brought in when they filmed something like a city street.[7]
The fake corpse of Will Byers used in episode four was built by Justin Raleigh from the company Fractured FX.[9][10] The van-flipping scene was also achieved practically, using explosives. When first trying the stunt on location, one of the explosives did not go off and the van destroyed a camera, costing the production thousands of dollars. To make Millie Bobby Brown float in the kiddie pool, they actually used 1,200 pounds of Epsom salt.[11]
As Season Two was green-lit by Netflix before the premiere of the first season, Ross and Matt Duffer spent the summer writing in a rental in Lake Hollywood, which they set up as a writers room. It was announced to the public at the end of August, while the producers had already mapped the story out and gotten a broad understanding of what it would look like, while the actual writing was still "very much in process."  On October 31, David Harbour posted a picture of himself in his Chief Hopper costume with the caption "Hopper's back," confirming that he was back on production.[12]
In the first week of November 2016, table reads for a "bunch of episodes" started.[13] The season was officially confirmed to be in production on November 4, 2016 in a social media post by Stranger Things. It was accompanied by a photo of some of the cast members at a table read.[6]
At the beginning of May 2017, Finn Wolfhard told Emmy Magazine that the second season would be much darker and more horror-oriented than the first.[14]
Filming
Filming of the season started on November 7, 2016.[4]
An extras casting call revealed that filming was planned for November 11, 15, 16 and 18 for scenes at the Middle School and November 14, 15 and 16 and December 8 at the High School.[15]
On November 14, 2016 photos of the cast on set in Atlanta were published. Seen in the photos were the main cast of kids and teens from the previous season, minus Millie Bobby Brown and Natalia Dyer, though who appeared to be a body double for Nancy was present. Chelsea Talmadge, who portrays the recurring character Carol, was also present. None of the new cast members were spotted, but the names Max and Billy were seen on the cast trailers, implying that newcomers Sadie Sink and Dacre Montgomery were present that day.[9]
By early April, the final two episodes had commenced filming, shooting scenes in woodland seen previously in Season 1.[16] On June 3, filming for the season officially wrapped.[17]
Season Three was officially green-lit by Netflix on December 1, 2017.
Production officially began on April 20,
[18]
and a production teaser was released on April 27, showing the cast members at the table read. Filming for the season also began April 23
[19]
.
Casting
While the main cast of the previous season is revealed to be returning, That Hashtag Show reported that a trio of new characters may soon be added to the cast, listing the names of the three characters: 'Mayor Larry Kline', 'Bruce' and 'Patricia Brown', though this has yet to be confirmed.[20]
On March 2, Variety announced that Priah Ferguson, who portrays Erica Sinclair, had been upped to a recurring role. Her storyline for the season was described as "No longer content with sitting on the sidelines, Erica finds herself on a wild mission to save Hawkins from a dangerous new threat." They also revealed that Maya Hawke will be joining the cast as Robin, an "'alternative girl' bored with her mundane day job. She seeks excitement in her life and gets more than she bargained for when she uncovers a dark secret in Hawkins, Ind."[21]
In April, it was announced that Cary Elwes, best known for his performance as Westley from The Princess Bride, had been cast as Mayor Kline, who is described as "handsome, slick, and sleazy. He is your classic '80s politician — more concerned with his own image than with the people of the small town he governs." Additionally, Jake Busey was revealed to have been cast as Bruce, a journalist for The Hawkins Post "with questionable morals and a sick sense of humor."[22]
In May, it was revealed that actress Francesca Reale had been cast as Heather, a lifeguard at the Hawkins community pool who will "become the center piece of a dark mystery."[23]
References
↑ 1.0 1.1 "Stranger Things: The Duffer Brothers praise episode 3 director Shawn Levy" Entertainment Weekly. July 17, 2016.
↑ "Interview: 'Stranger Things' Producers on Influences, Marketing, the Possibility of Future Seasons and More" Slash Film. July 21, 2016.
↑ "Stranger Things premiere: The Duffer Brothers introduce their new Netflix series" Entertainment Weekly. July 15, 2016.
↑ 4.0 4.1 4.2 "Stranger Things finale: The Duffer Brothers reveal 'most challenging episode' of season" Entertainment Weekly. July 22, 2016.
↑ 5.0 5.1 5.2 5.3 "Stranger Things episode 6: How the Duffer Brothers created their monster" Entertainment Weekly. July 20, 2016.
↑ 6.0 6.1 "Netflix's Stranger Things: Shawn Levy interview" Den of Geek. July 15, 2016.
↑ 7.0 7.1 "'Stranger Things' Finale: Duffer Brothers Talk Cliffhangers, Death and Season 2" Variety. July 18, 2016.
↑ "Exclusive 'Stranger Things' Art Reveals 'Upside Down' Secrets and Barb's Alternate End" Screencrush. August 22, 2016.
↑ 9.0 9.1 "Stranger Things episode 4: How the Duffer Brothers were inspired by Stephen King" Entertainment Weekly. July 18, 2016.
↑ "Stranger Things: the Duffer brothers share the secrets of their hit show" Empire. July 27, 2016.
↑ "Stranger Things episode 7: The Duffer Brothers on the 'most fun' episode of the season" Entertainment Weekly. July 21, 2016.
↑ "Hopper's back" Instagram: @dkharbour (David Harbour). October 31, 2016.
↑ "The Producer Of Stranger Things Talks Impossible Season Two Expectations" Gizmodo Australia. November 3, 2016.
↑ "Stranger Things Season 2 Will Have More Horror In It" io9. May 1st, 2017
↑ "'Stranger Things' Season 2 Atlanta Casting Call for Kid Actors" Project Casting. October 22, 2016.
↑ Tim Ives' Instagram post April 6, 2017.
↑ "Exclusive: 'Stranger Things' Season 3 Starts Filming Monday; Andrew Stanton Not Returning" Collider.April 21, 2018
↑ EXCLUSIVE: Trio of New Characters Headed To 'Stranger Things' Season 3 That Hashtag Show. February 24, 2018
↑ "'Stranger Things' Season 3 Adds Maya Hawke, Ups Priah Ferguson" Variety. March 2, 2018.
↑ "Stranger Things season 3 appoints Cary Elwes as mayor" The Hollywood Reporter. April 18, 2018
↑ "'Stranger Things' Season 3 Casts 'Haters Back Off' Alum Francesca Reale" Variey. May 9, 2018
Community content is available under
CC-BY-SA
unless otherwise noted.