Spoiler Warning!

This article or section reveals details from the third season. Read at your own discretion...
The Starcourt Mall is a shopping center located in Hawkins, Indiana and a subsidiary of Starcourt Industries. The mall's opening in 1985 was inaugurated by Mayor Larry Kline. Both Steve Harrington and Robin worked at the Scoops Ahoy in the mall's food court.
Although Starcourt appears to be a normal mall at first glance, it was actually built as a front for a secret Russian base, which houses the first Key built on American soil. Starcourt Industries is also controlled by the Soviet Union.
The Starcourt Mall was destroyed by a fire at the end of Season 3 and burned to the ground following the kids' battle with the Mind Flayer. At least thirty deaths, including Billy's and Hopper's, were falsely attributed to the fire due to intervention by the U.S. government.
Description
"Starcourt Mall is Hawkins' first premium shopping center featuring many trendy shopping facilities, where families, friends and teenagers can come together to hang out, shop, dine and enjoy.[1]" - Starcourt Industries
Outlets
Shops
Sam Goody
Wicks 'N' Sticks
RadioShack
Zales
Kaufman Shoes
The Gap
Waldenbooks
Claire's
JCPenny
Shapes
Jazzercise
Regis
Levi's
Food Court
Hot Dog on a Stick
The Great Cookie
Tepanyaki
New York Pizza
Orange Julius
Burger King
Hawkins' Heroes
Hot Sam Pretzels
Taco Bell
Imperial Panda Chinese
Entertainment
Loading Area
Behind the scenes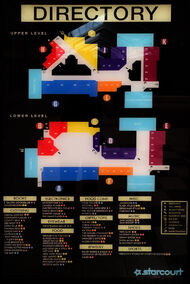 The filming location for the Starcourt Mall was the Gwinnett Place Mall, located in Duluth Georgia. In preparation for filming, a portion of the mall was remodeled to resemble a mall from the time period, including several popular outlets from the '80s.[2]
During the filming of season three, many mall guests of the mall looked into the site and recorded with their phones. this caused distress with the cast and crew.
The movie theater facade was built completely on the set.[3]
In celebration of the third season's release, an event titled the Starcourt Mall Experience will be held at Tower Records in Hollywood, California on July 5-7.[4]
Trivia
Kaufman Shoes, one of the stores at the mall, was created purposely for the plot of the third season and didn't actually exist during 1985.[3]
The name "Starcourt" is a possible reference to the Soviet Union's star and sickle flag, which itself appears in the opening scene of "Suzie, Do You Copy?".
References
Community content is available under
CC-BY-SA
unless otherwise noted.