This page serves as a list of minor characters in the second season of Stranger Things. This list will include unseen and mentioned characters.
Shown
Adams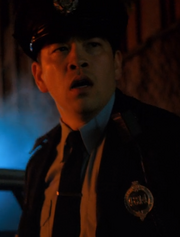 Adams was a police officer working in Pittsburgh. On October 28, 1984, he helped pursue Kali and her gang. Kali used her abilities to deceive Adams into believing a tunnel she and her group entered had collapsed so that they could escape. In response, Adams stopped his car, causing the other officers chasing the gang to crash into it. He is portrayed by Alan Boell.
Darrel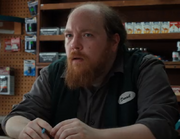 Darrel worked as a clerk at Oscar's Gas n' Go. Kali distracted him with one of her illusions so the rest of her gang could steal from the store. He is portrayed by Keith Brooks.
Doctor Owens' Assistant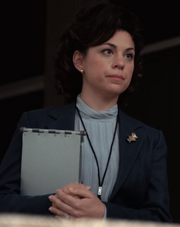 An unnamed woman assisted Dr. Owens at Hawkins Lab. She is portrayed by Lauren Halperin.
Doris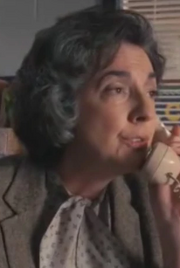 Doris is a secretary of Hawkins Middle School. When Will Byers did not return home, Joyce Byers called the school and Doris answered; She told her that Scott Clarke's class is probably over, so Joyce left for the school in a hurry.
Samantha
Samantha is a student at Hawkins High School. She attended Tina's Halloween party where she met and had a brief conversation with Jonathan. She is portrayed by Shea Jones.
Teddy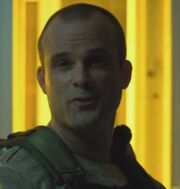 Teddy was a soldier at the Hawkins Lab who assisted Dr. Owens to burn the vines that started spreading from the Gate in 1984. He was portrayed by David A MacDonald.
Tews
Tews is a Siamese kitten adopted by Claudia Henderson and her son Dustin, which lived with them at their home. Following the death of the Hendersons' previous cat Mews in late 1984, they began adopting Tews.
Unnamed Drunk Teen #1
An unnamed teen was a student at Hawkins High School who attended the Halloween party ran at Tina's house. He was portrayed by Cody Pressley.
Unnamed Elderly Woman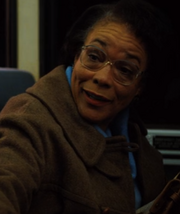 An unnamed woman sat and spoke to Eleven while on a bus heading back to Hawkins. She is portrayed by Avis-Marie Barnes.
Unnamed Homeowner
An unnamed woman resided in Hawkins. Mike, Lucas, Dustin, and Will stopped by her house while trick-or-treating. She mistook their Ghostbusters costumes as exterminator costumes. She is portrayed by Lynne Ashe.
Unnamed Hunter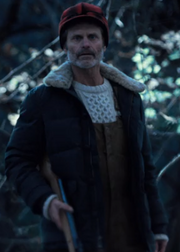 An unnamed hunter encountered Eleven in the woods. Eleven attacked him, rendering him unconscious and stealing his clothing. He is portrayed by Alex Van.
Unnamed Math Teacher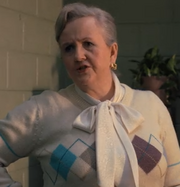 An unnamed woman taught at Hawkins Middle School. While looking for Dart, Lucas kicked down the door to her classroom. She is portrayed by Donna Wright.
Unnamed Mother and Child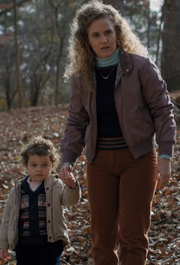 An unnamed mother and child resided in Hawkins. Eleven encountered them after she had left the cabin in order to visit Mike. When the woman inquired about her parents, Eleven didn't answer, instead asking the woman where Hawkins Middle School was located. Before leaving, she used her powers to manipulate the swing, frightening them and prompting the woman to call the police. They were portrayed by Bethany DeZelle (mother) and Harper Cavanaugh (child).
Unnamed Motel Owner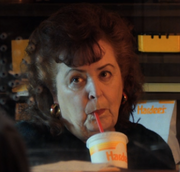 An unnamed woman owned the motel where Nancy and Jonathan stayed during their trip to Murray Bauman's warehouse. She was portrayed by Virginia Kirby.
Unnamed High School Student
An unnamed teen was a student at Hawkins High School who attended the Halloween party at Tina's house and participated in the basketball games. He was portrayed by Drew Scheid, but was credited in Trick or Treat, Freak as "Drunk Teen #2".
Unnamed Truck Driver
An unnamed driver drove Eleven to her mother's house at 515 Larrabee with his truck. He was portrayed by Ben Taylor.
Unnamed TV Reporter
An unnamed woman appeared on the local news as the TV reporter of Hawkins, who reported the cover-up of the death of Barbara Holland by the Hawkins National Laboratory. She is portrayed by Orelon Sidney.
Vicki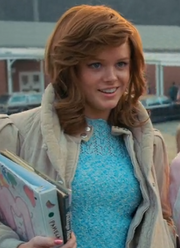 Vicki is a student at Hawkins High School. She, along with Tina and Carol, witnessed Billy arrive on the morning of his first day at the school. She is portrayed by Abigail F. Cowen.
Yurtle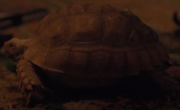 Yurtle is Dustin's pet turtle. He was temporarily evicted from his terrarium so it could house Dart, a strange creature Dustin found in the trashcan outside his house. Yurtle was later seen in a new terrarium
Mentioned
Sam Mayfield
Sam Mayfield[1] was the ex-husband of Susan Hargrove, and the father of Maxine Mayfield. Susan and Max moved to Hawkins with Susan's new husband Neil, and his son Billy. Max didn't blame her father for the events that led to them moving to Hawkins. According to Max, her father still lived in California.
Mr. Cooper
Mr. Cooper was a teacher at Hawkins High School. On one occasion, he caught a young Hopper and Joyce smoking. According to Hopper, he retired in the '70s.
References
Community content is available under
CC-BY-SA
unless otherwise noted.