For more info about the Eggos, click here. Kellogg's Eggo (formerly Froffles) is a brand of frozen waffles sold in the United States. They have become an icon of Stranger Things due to Eleven's obsession with them.
History
1983
Eleven was first introduced to Eggo waffles the morning after Mike and the party found her. Mike gave her a single Eggo for breakfast, which led to an addiction to the premade waffle. When El was left stranded in the woods, Eggo waffles were the only food she stole from Bradley's Big Buy .
After Eleven's disappearance, Hopper was able to find her again by leaving a box of Eggos out in the woods. When El found the Eggos and realized he was putting them out for her, she confronted Hopper and they began living together in secret.
1984
One morning, Hopper lured El out of bed with a Triple-Decker Eggo Extravaganza. During their fight, Hopper banned El from having any Eggos for a week (along with the TV).
Eggos were also the only thing El stole while Kali and her crew were robbing a gas station store.
1985
When the gang was at Bradley's Big Buy, Mike received a short transmission from Dustin through his Supercom. Eleven used her powers to locate Dustin while sitting in front of an open freezer of Eggos.
Triple-Decker Eggo Extravaganzas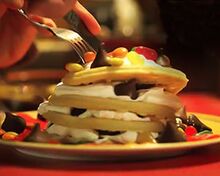 Triple-Decker Eggo Extravaganzas are an invention of Hopper's. They are made with three Eggo waffles with whipped cream layered in-between each waffle, and topped with various sweets such as Hershey's Kisses and jelly beans. Hopper made them as a special treat for Eleven when she was living with him.
Gallery
Trivia
Millie is not obsessed with Eggo Waffles in real life.
Millie's favorite Eggo flavor is Blueberry.
Eleven's obsession with Eggo Waffles is based of E.T.'s obsession with Reese's Pieces.