Kellogg's Eggo
(formerly
Froffles
) is a brand of frozen waffles sold in the United States. They have become an icon of
Stranger Things
due to
Eleven
's obsession with them.
History
Season One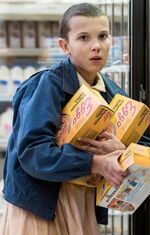 Following her escape from Hawkins National Laboratory, Eleven was found in the woods by Mike, Dustin, and Lucas while they searched for Will, their missing friend. Mike brought Eleven to his house and fed her everyday, often providing Eggos for breakfast. As Eleven slowly grew fond of Mike and his friends, she also became very fond of Eggos.
Eleven later entered a local supermarket to find some food. After walking around, she finally found what she was looking for; she grabbed box upon box of frozen Eggos from the freezer. As she began to leave, a worker angrily told her she had to pay for the waffles, leading her to destroy the store's windows. Eleven later sat in the woods alone, eating the newfound food.
One month later, Chief Hopper ventured out to Mirkwood and placed some Eggos and Christmas party leftovers in a concealed box in the forest. This suggests that Eleven, despite vanishing in her confrontation with The Monster, had survived, and that Hopper had some awareness of her current status.
Season Two
During her living with Hopper for almost a year, Eleven was still very much obsessed with Eggos. Even though they both agreed to eat dessert after dinner, she didn't hesitate to eat Eggos before dinner.